In the port of Pajares is the Valgrande-Pajares ski resort that offers all kinds of services for the practice of winter sports.
It is located under the hills of the mythical port of Pajares and in the shadow of Cueto Negro, Cellón and Las Tres Marías, which are around 2,000 meters above sea level.
With more than 60 years of history, the Valgrande-Pajares station is one of the pioneers in Spain. The ease of access it enjoys, as well as its location, 40 minutes from cities such as Oviedo or León, make it possible to combine skiing with other types of sports, cultural, gastronomic and nature resources.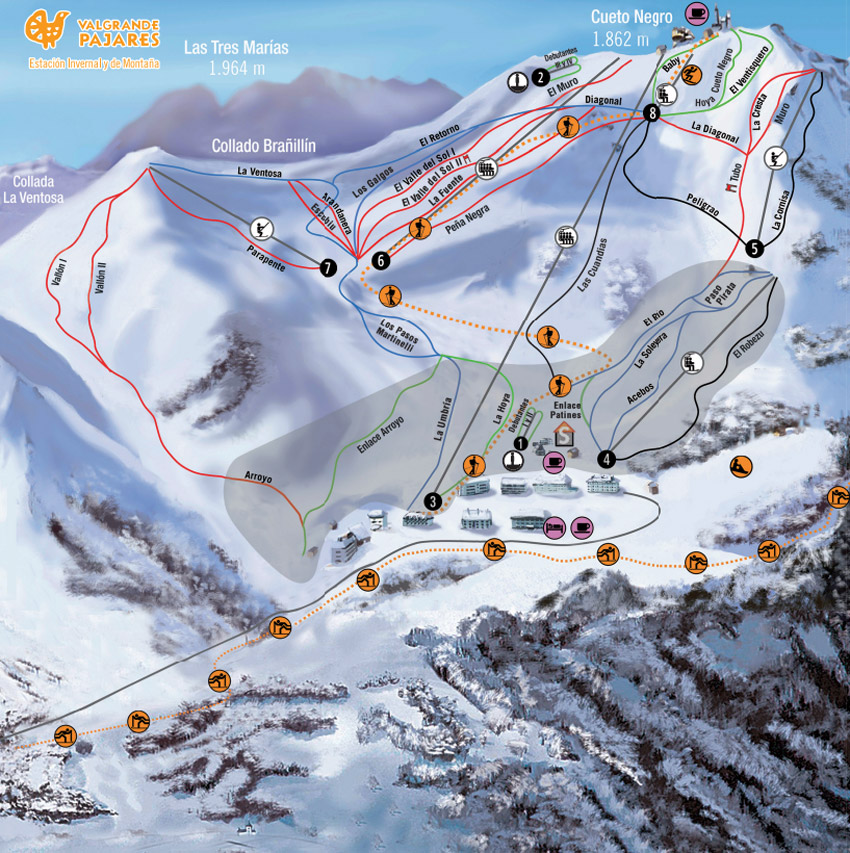 SERVICES AND FACILITIES OF THE VALGRANDE-PAJARES STATION
At the foot of the slopes, in addition, the resort has a wide range of services and facilities: medical service, ski and snowboard school, equipment rental, childcare, recreational areas, cafeterias, restaurant, etc.
It has a ski area of ​​30.9 km of slopes, to which 4 ski lifts, 4 chair lifts and 1 treadmill give access, with a transport capacity of about 8,425 passengers/hour. It has two cross-country routes, a snow park in the upper area of ​​the resort, two competition stadiums, a specific route for cross-country skiing within the resort itself, and a sled area, which allows the practice of various types of skiing. and leisure to enjoy the snow in any of its modalities or forms.
It has 140 accommodation places at the foot of the slopes, in hostel modalities, and more than 1,000 in the resort's area of ​​influence.
Maximum elevation 1,890 m
Minimum elevation 1,430 m
Height difference 460m
Km of tracks 30.4 km
Easy slopes 18 (14.6 Km)
Intermediate tracks 14 (12.2 km)
Difficult slopes 4 (3.6 Km)
Cross-country skiing 7 km
Chair lifts 4
Ski lifts 4
Mechanical mats 1
Ski lift capacity/hour 8425 passengers/hour
Snow parks 1
snow cannons 80
Canyons Km. snow covered 6.3 km
CROSS COUNTRY SKI
Cross-country ski circuit with about six kilometers in length and two types of difficulty for those who want to start and those who are more expert.
SNOWPARK (FREESTYLE SNOWBOARD)
The snowpark is located in the upper area of ​​the resort, parallel to the beginners slope. It is intended for users with different levels since it will be possible to find modules and jumps of all levels marked by beacons of different colors that will indicate their degree of difficulty.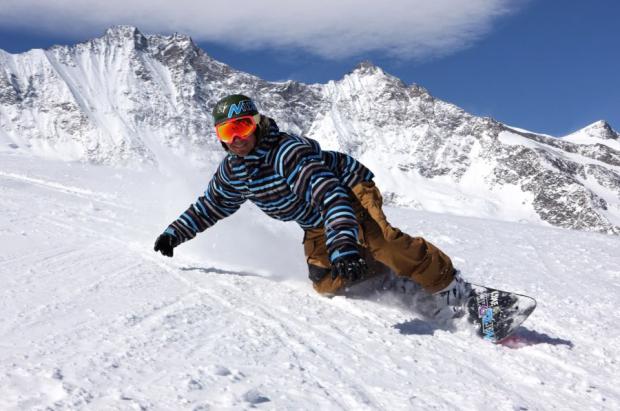 Modules of varying length, size and difficulty will be located in this area, visually differentiated by colored beacons, where the blue ones will signal low-medium level obstacles and the red ones of medium-high level.
We have a wide variety of modules:
5m box
3m box
4 m tube rail
6m tube rail
5 m flat rail
6m up-down rail
Two 3m planters (drawers)
An L-rail
Corrugated tube modules
Smooth tube module
A pyramidal drawer
One or several jumps.
It will open every day that the necessary conditions for opening are met, considering that depending on the day, snow conditions or modules, the shaper will be the person responsible for modifying the opening and closing hours of the snowpark. The snow report of the Station will inform about its status and forecast.
CONTACT INFORMATION
Official website https://www.valgrande-pajares.com/
Snow report: https://www.valgrande-pajares.com/parte-de-nieve-pajares.htm

Winter and Mountain Station Valgrande-Pajares Brañillín, 33693 Pajares (Lena) Asturias
Telephone 985 957 097
Email info@valgrande-pajares.com
FACEBOOK OF THE VALGRANDE-PAJARES STATION
HOTELS IN POLA DE LENA
At the Hotel VIDA Santa Cristina, 27 km from the station and perfectly connected to it through the National Highway 630, we have an exclusive garage for skis with a laundry room that is totally free for our customers.